TCSOA holds Scholarship Ceremony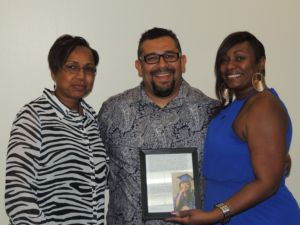 Pictured L to R Catherine Young, Mike Pecina and Tiffany Young
TCSOA held its scholarship ceremony to award academic and community scholarships. This year, TCSOA awarded a total of four scholarships to the children of members and the community. We had several outstanding students who applied making the selection process a very competitive one. This year's recipients were:
Brittianey Pecina – Warren P. Young Community Award (WPY Award)
Jillian Oropeza – Academic Award (St. Mary's University)
James A. Diekmann III – Academic Award (University of Texas)
Garret Dzieranowski – Academic Award (University of Texas)
During the ceremony, TCSOA honored the late Officer Warren P. Young with a moment of silence. Warren's wife (Catherine) and his daughter (Tiffany) were in attendance. Brittianey, the recipient on the WPY Award away attending college and was not available to attend however, her father (Mike) accepted the award on her behalf and presented Warren's family with a framed letter of gratitude and a picture from Brittianey.
All four recipients exceeded the requirements to receive the awards. TCSOA is committed to excellence in education and each recipient has demonstrated that excellence through their Grade Point Average (GPA) and their service to the community. We wish each them the best as they work towards obtaining their college degree.
TCSOA is a non-profit organization, if you would like to make tax a deductible donation to the scholarship program, contact secretary@tcsoa.org.
See more photos in the Photo Gallery